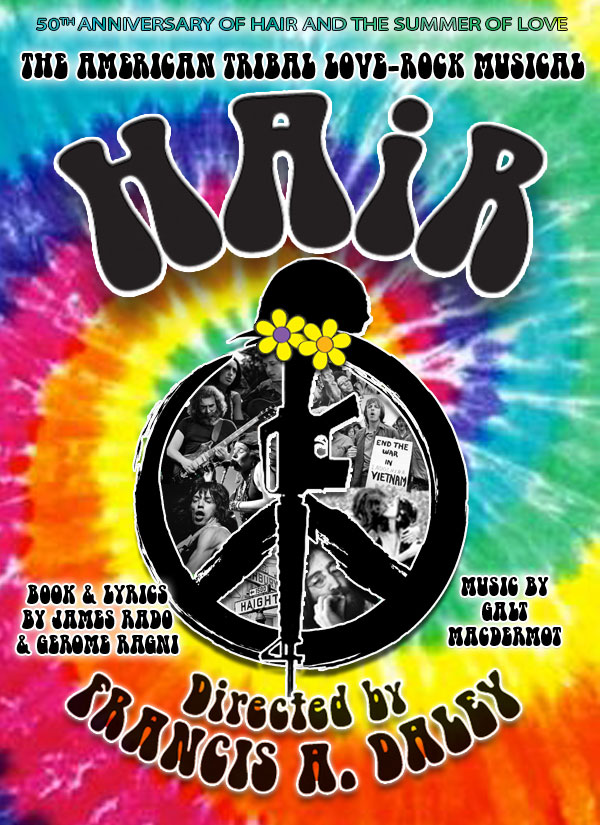 HAIR
June 30 – July 1, 7,8,9, 13,14,15, 21,22,23, 27,28,29, 2017
8:00 p.m. Thursday, Friday & Saturday
2:00 p.m. Sunday Matinee
Special 2:00 p.m. & 8:00 p.m. Saturday, July 29
Celebrating its 50th anniversary this year, HAIR, the American Tribal Love Rock Musical, made its world premiere in 1967. HAIR celebrates the sixties counterculture in all its barefoot, longhaired, bell-bottomed, beaded and fringed glory. To an infectiously energetic rock beat, the show wows audiences with songs like "Aquarius," "Good Morning, Starshine," "Hair," "I Got Life," and "Let the Sun Shine." Exploring ideas of identity, community, global responsibility and peace, HAIR remains relevant as ever as it examines what it means to be a young person in a changing world.
Directed by Directed by Francis A. Daley
Please note: the show contains adult themes and is recommended for mature audiences only.
Latest News
(06/21/17) The Sherman Playhouse Holds Auditions for Dark of the Moon July 10 - 11
(06/14/17) The Sherman Playhouse Opens the Rock Musical 'Hair' to Celebrate the Show's 50th Anniversary
(05/18/17) Calendar notice for HAIR June 30 – July 29
(05/04/17) "A wild show…biting satire… uniformly excellent" By Fred Baumgarten, Lakeville Jourmal
(04/28/17) Theater Review: A Very Dark, Very Well Acted Comedy For Sherman's Season Opener By Elizabeth Young, The Newtown Bee
(04/27/17) Sherman spotlights American dream By Joanne Greco Rochman, Republican-American Theatre Review